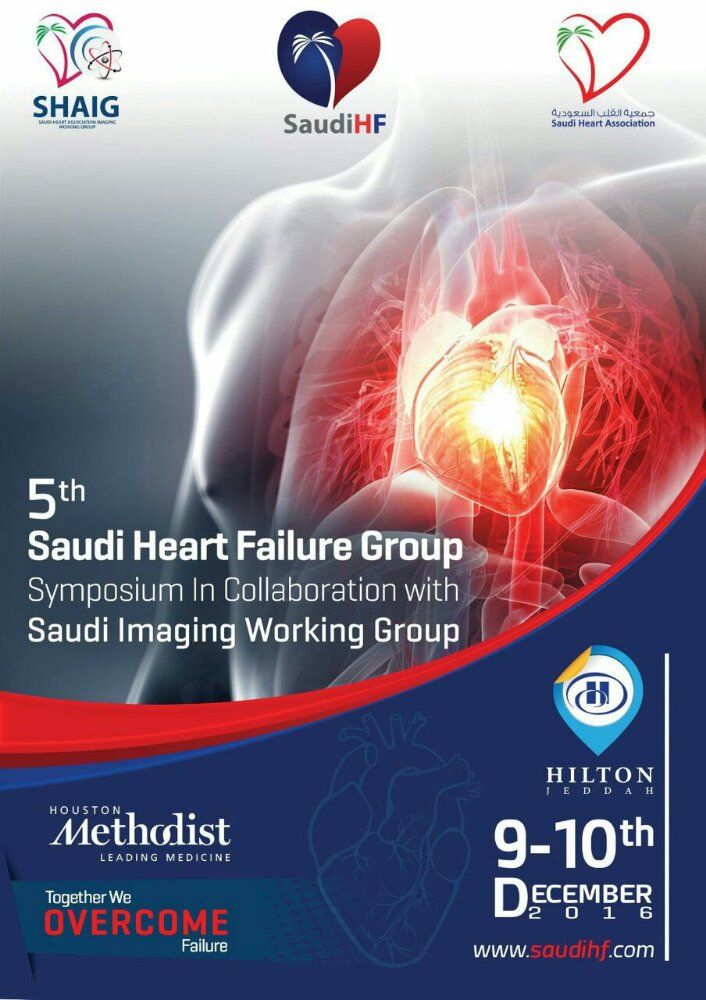 5th Saudi Heart Failure Group Symposium

" The Saudi Heart Failure Group (SHFG) will represent the first organized effort by heart failure experts from Saudi Arabia to provide a forum for all those interested in heart function, heart failure, and congestive heart failure (CHF) research and patient care. "

Venue : Hilton, Jeddah KSA | Date : 9-10 December 2016
Activities :
1) Heart Failure Journal Clubs: 2-3 meetings will be conducted annually to discuss recent articles and breaking news.
2) Heart failure case presentation: Interesting and difficult controversial cases in heart failure.
3) Heart Failure Annual Conference: Once a year with updates and reviews.
4) A fixed session in the annual Saudi Heart Association meeting, and to consult on the heart failure topics and plans
5) Heart Failure training courses: Directed to different levels of professionals interested in heart failure care
6) Heart failure awareness day: Directed to the public for introduction, definition and better awareness of heart failure prevention and management.
Target Audience : Cardiologist Resident, Specialist and in all Levels | Students and Interns
CME hours : CME accredited

walhabeeb@sha.org.sa

|

or click to fill up form inquiry ----> http://saudi-heart.com/index.php/contact/
Online Registration : https://krregistration.com/OnlineRegistration/SHFG/
Website :
http://saudihf.com/