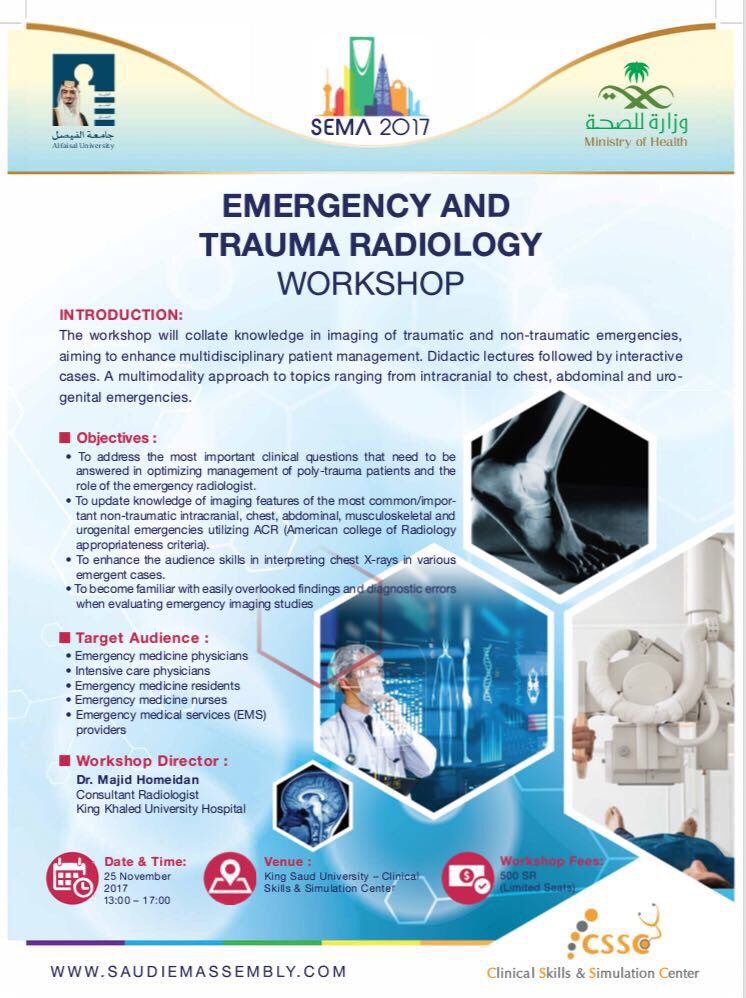 Emergency and Trauma Radiology Workshop
Venue : King Saud University - Clinical Skills and Simulation Center
Date : 25 November 2017
The workshop will collate knowledge in imaging of traumatic and non traumatic emergencies, aiming to enhance multidisciplinary patient management. Didactic lecture followed by interactive cases. A multimodality apporach to topics ranging from intracranial to chest , abdominal and urogenital emergencies.
Objectives :
To address the most important clinical questions that need to be answered in optimizing management of poly trauma patients and the role of the emergency radiologists
To update knowledge of imaging features of the most common/important non traumatic intracranial, chest, abdominal , muscoskeletal and urogenital emergencies utilizing ACR (Amercian college of radiology appropriateness criteria).
To enhance the audience skills in interpreting chest Xrays in various emergent cases
To become familiar with easily overlooked findings and diagnostic errors when evaluating emergency imaging studies
Target Audience :
Emergent medicine physicians
Intensive care physicians
Emergency medicine residents
Emergency medicine nurses
Emergency medical services (EMS) providers
Workshop Fee : 500 SAR

For Registration :
www.saudiemassembly.com